New! Printer Ready Tract: The True Temple of God

This is a snapshot of the True Temple tract, which is in Adobe Acrobat(tm) pdf format, ready for printing out on an 8.5"x11" sheet of paper.

To download the pdf file, right click on the link to the tract and Save it to your hard drive. You will need the free Adobe Acrobat Reader, available here:, in order to view the tract and to print it out.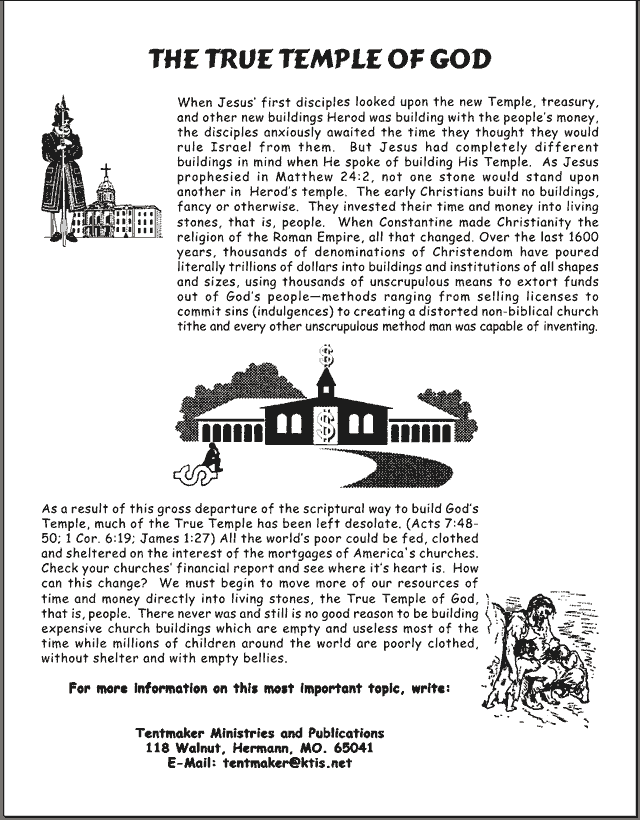 ---

New! Wisdom Quotes compiled on many subjects!
If you would like to help us reach more people, click here.
To purchase hard-to-find Bible translations and study aids, spiritual
growth, etc. click here.
For information about Tentmaker Ministries, please click here.
Home | Audio Messages | Books & Booklet | DewMagazine | FAQ | Inspirationals | Lists
Mailable Order Form | Message Board | New Books & Articles | Reviews: Books, Bibles, Software
Scholar's Corner | Search | Tentmaker Resources | Testimonials | Topical Index | Tracts | Tradition Busters
Support Tentmaker | Wisdom Quotes
Another Tentmaker Site: What the Hell Is Hell?

Tentmaker
118 Walnut
Hermann,MO 65041