We Appreciate Your Prayers and Financial Support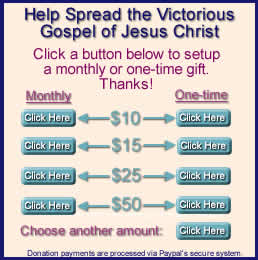 If you would like to help support the many efforts of Tentmaker in getting the Victorious Gospel of Jesus Christ to all mankind, for your convenience we have set up with PayPal's secure online payment system. You may use major credit cards with this system. All donations are gratefully accepted and tax-deductible. Your help has kept us going. Checks may be made to Tentmaker Ministries - 118 Walut - Hermann, MO 65041
P.S. Also join our discussion board and network with like-minded people to create ways in which this message can be spread.
http://www.tentmaker.org/forum/
Things You Can Do To Make A Difference
We have all been bought with a price. We are not supposed to be about our own business, but the business of our heavenly Father. And there is plenty to do in His kingdom. The harvest is indeed plentiful but the labors are still few. Here are a few things that can be done to help spread the Victiorious Gospel into the darkness of this world.
* Order books, DVD's, tracts, etc. and send them to friends, family, pastors in your community. Order books and send them or have us send them to prisoners. They have plenty of time to read and are often "ripe" for a deep relationship with God.
* Purpose to send certain key people information on a regular basis which would cause them to think past their paradigm. For example, select 10 ministers to send a tract to for a certain period of time.
*We are working on a Bible translation without Hell in it. Funding for this will determine how soon it goes out and the quality of the printing and binding. Please consider this project. It's very important.
* Write letters to editor in your local newspaper. Copy powerful thoughts from some of our literature, provide contact information for them so they can seek out information for themselves. Contact radio and television program producers suggesting programming on the subject of the detrimental effects of the teaching of Hell, etc.
*We need more of our short articles to be turned into small tracts which can easily be handed out. Someone with some desktop publishing skills should be able to do this easily.
* Contact Tentmaker Ministries, inform us of your skills and what you are willing and able to do. We always need graphic artists, web design skills, SEO, researchers, etc. We really need some high skill web design help.
* Visit Internet discussion boards and bring up the subject of Universal Salvation and Hell. Give them links to Tentmaker or our What the Hell is Hell site or other helpful sites.
* We desperately want to get this message into other languages. Purpose to find translators to translate good short articles into the languages of the world. There is much need in this area.
* We have many good books we would like to print or reprint but simply do not have the funds to do so. Finance the printing of one of these fine books. Hannah Whitall Smith's "The Unselfishness of God and How I discovered it" is an example of a book that needs to be reprinted in its original form.
* Organize a debate in your community regarding the fate of unbelievers.
*Produce slide programs with this glorious message, send them to us and we may put them into our video section.
*We want to put more video content on MySpace, YouTube, etc. Need technical help.
*Start a home fellowship. Write us for details how to start.
*Equipment needs: Video equipment and lighting.
We want to thank all of you who have contributed to Tentmaker through your finances and prayers. Believe me, without your support, the hundreds of articles, books, audio and video materials would not be there. We get thousands of visitors everyday leaving in a better state of mind and heart than when they entered. Here a couple examples:
"I am so thankful to the Lord that I came across this web-site when I did. As a traditional Christian I had lost my love for God and even attempted suicide. I may very well owe my life to Gary Amirault. Thank you for everything you are doing. It has blessed me and my friends more than I could have ever thought possible. It was such a blessing to receive the material you sent me. Thank you!" endquote.
"My relationship with God has been an eye opening (dramatic insight) experience...I'm just now waking up to divine sonship. I have lived the term, psychology of hate. I hated the justice system. I hated the inhabitants (inmates and officials) of it. I hated certain parties of this American government. I hated family members and I hated myself...
So where is my relationship with the Father? My heart leaps within me as I contemplate this wonderful reality — being changed into the image of God and to put on incorruptibility to meet the first born son personally, commune with him intimately, be joined vitally with him in union of his mind, nature, and life and continue to walk in the light and glory of who he is." endquote.
Dear Saint, your support produced these kinds of emails. We have many thousands of visitors every day thanks to you. They thank you for your support and so do Michelle and I and the rest of those who help with Tentmaker projects. Without your support, we could not do a fraction of what we presently doing. Regular monthly contributions are extremely helpful to us.
(We'll add more suggestions in the weeks to come.)