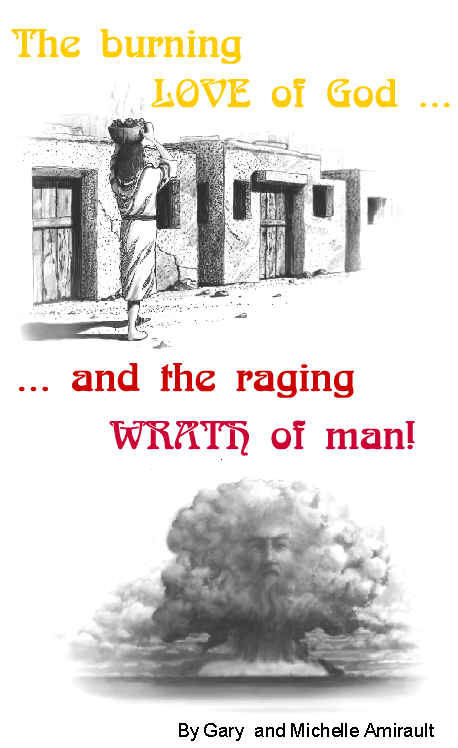 The Burning Love of God And
The Raging Wrath of Man
By Gary and Michelle Amirault
Tentmaker Publications
118 Walnut
Hermann, MO 65041
http://www.tentmaker.org
info @ tentmaker.org
Cover Art Work By
Rick Pollock
God,
Who at various times and in various ways
spoke in times past to the fathers by the prophets,
has in these last days spoken to us by His Son,
Whom He has appointed heir of all things,
through whom also He made the ages;
Who being the brightness of His glory
and the express image of His person,
and upholding all things by the word of His power,
when He had by Himself purged our sins,
sat down at the right hand of the Majesty on high…
(Hebrews 1:1-4)
Put on the new man which was created according to God, in true righteousness and holiness (Eph. 4:24, NKJ) who is renewed according to the image of Him who created him; (Col. 3:10) he is a new creation; old things have passed away, behold, all things have become new, (2 Cor. 5:17) for in Christ Jesus neither circumcision nor uncircumcision avails anything, but a new creation. (Gal. 6:15)
As we can see from the above Scriptures, God has been building, creating, forming, and shaping a New Creation Man who is the express image or exact likeness of the invisible God. Paul speaks of "putting on" this new man "who is renewed in knowledge according to the image of Him who created him." The writer of Hebrews tells us that part of this process is "purging out" our sins.
Putting Him on, yet Him being in us, and we being in Him? Putting off the "old man," crucifying Christ afresh, picking up our own crosses, renewing our minds, yet already having the mind of Christ? Have you ever struggled with how to do all this? Have you ever struggled to cease from your labors? Have you ever wrestled with the paradoxes of the Bible like "working out your OWN salvation with fear and trembling for it is GOD who works in you both to will and to do for His good pleasure?" How does one "work" and yet "enter His rest" and cease from their labors at the same time?
God's creating process seems to have a lot of paradoxes in it. We are going to take a long, deep look into this process. Jesus is the express image of the invisible God. Somehow, we are incorporated into that "new man"--that "express image."
There are tens of thousands of "images" of God floating around in the world. There are over 30,000 denominations of Christianity alone, each with their own concepts of God and man's relationship to Him. And whether we care to acknowledge it or not, most of us, Christians are conforming ourselves to these images, not to the "express image" of the invisible God. How do we know we are conforming ourselves to the right image? How do we know we are learning the right knowledge, the right doctrines, etc.? The Bible has MANY warnings about idolatry. Could we be idolaters and not even know it?
God is building a "New Creation Man." We will look into God's creation process and our participation in that process. We will also take a good look into the thousands of counterfeits of God's "New Creation Man" and the systems that are creating them.
God is an All-consuming fire. He is light, love, and life. These also have to do with fire. We will take a good look at these attributes from many different angles. Vengeance, which God says belongs to Him, is also a kind of fire. Man has often unlawfully taken possession of this fire. We will look into the heart of the Creator of the universe and look into the heart of man to see what is burning in each. To get a better understanding what is going on there, we will use the tools of many sciences and fields. We will employ physics, chemistry, biology, neurology, psychology, archaeology, mythology, etymology, sociology, cardiology, hermeneutics, linguistics, astronomy, photography, metallurgy, history, and a host of other disciplines. The reader may be surprised how much we can learn using these disciplines aided by the Holy Spirit.
We are going to look at the "All-consuming Fire" of God and what kinds of fire He delivers to mankind. We will look at the various words in the original languages of the Bible that deal with fire, both physical fire and the idiomatic use of those words. We will study the fires all around us and several different kinds of fires in our very own bodies.
For example, did you know there is a "burning bush" inside of you? Did you know you had a literal "oven" in you?
We will talk about some of the newly invented equipment which is helping us better understand our natural world AND opening the doors of understanding of the Spiritual world as well. We will look at Life, Love, and Light with new eyes. We will study lightning and its natural effects on the atmosphere and the earth and what these effects point to in the spirit world. Laser light is another subject we hope to explore for spiritual secrets hidden there. We will enter the caverns of the carnal mind and explore what lurks within. Computer memory will also be explored and compared with how our mind works. Scales will be removed from our eyes and we will see light where there once was only darkness.
Human emotions are full of fires of all kinds…emotions like shame, fear, jealousy, revenge, pride, and anger. Do these emotions effect how we see ourselves, others, God? Is it possible to see things clearly with these kinds of flames clouding our vision? How much of what we think is our God's anger is actually our own desire for vengeance? What is God's anger really like?
Is there a correlation between how angry, hateful, or fearful a person is and the nature of the kind of god they worship? Do we manifest anger because we are conforming to the image of an angry God or do we choose to worship an angry god to justify our anger? We will explore this subject.
Most forces of destruction, (the atomic bomb, for example) which effected millions of lives were actually controlled by only a handful of men or women. This speaks not only of natural powers, but supernatural powers as well. We will study powers like nationalism, patriotism, traditionalism both within religion and other institutions to see how they might effect our view of God, ourselves and our neighbors. We will look at how to overcome these powers.
The Greek and Hebrew languages are filled with scores of different kinds of figures of speech (idioms, for example), many of which have NOT been brought into our English translations. Did you know, for example, that the Greek New Testament contains over 200 individual types of figures of speech? We will look at a few dealing with the subject at hand.
Scorpions, serpents, the tongue, revenge, lust, shame, spirit, soul, flesh, governments, stars, the lake of fire, furnaces of affliction, mold-making, image making, idolatry of the heart and many other subjects centering around fire and its attributes will be looked at with new spiritual insights presented.
We will take a very hard look at the Greek and Hebrew words behind our English words "hypocrite," and "hypocrisy" and how they relate to fire.
It is our hope this will not be a boring study by any means. It will NOT be so complicated that the average person cannot understand it even though we will enter fields like chemistry, physics and astronomy. It is also our hope that everyone who is hungry for Truth will walk away with clearer vision and more fire in their hearts and bones. "Ministers of fire" should have "fiery words." We will explore what that is all about. We will look at prayer, worship, and intercession and see how these subjects relate to fire.
We will take a closer look at this "atom" which caused so much destruction. The Greek root of this word means "uncuttable." Seems we need a new name for the atom since it was the cutting (splitting) of this object that unleashed the destruction we will read about in this first issue. We will take a look at another project man is presently involved with…the fusion of atoms (fusing, bonding atoms together) instead of breaking them apart. This new research promises great hope for providing an unlimited supply of inexpensive AND safe energy for the world. Perhaps mankind has seen its darkest days and will begin to turn towards the Light having previously been dipped into gross darkness.
We will look at the diamond and its fire. Then we will go to the crystal sea in the book of Revelation and study it and its fire. Oh, saints, our Father is opening our eyes, minds and hearts, wider and wider. What a glorious time to be living!! All of these studies will give us a better understanding of Who the Creator of the Universe REALLY is, which will help dispel our false concepts of who we've been told He is by blinded minds who have blinded those they influenced. We will get a better understanding of who we are, and finally of who our neighbor is.
How gold is refined will be an important subject we will spend some quality time looking into. The Bible has much to say about refinement by fire. The study of this process has MUCH to reveal to us about OUR processing in the Lord's fiery furnace and what that entails.
And through this whole series, the underlying topic, of course, is love, burning love, an undefiled love--love without hypocrisy--a love that seems to be a more rare commodity than all the other precious metals in this world combined. This love is something that seems to often allude even the most zealous of Christians. It is our hope that the time spent reading this series will move us all a little closer to the Refiner's fire.
Why This Study?
Are we, Christians, manifesting all that God's has promised us in the Bible? Do we walk as Jesus walked or do we fall far short of that mark? Do we manifest the power and love the early disciples manifested? Do we heal the sick, cast out demons--and do we speak as Paul spoke:
"For I determined not to know anything among you except Jesus Christ and Him crucified. I was with you in weakness, in fear, and in much trembling. And my speech and my preaching were not with persuasive words of human wisdom, but in demonstration of the Spirit and of power, that your faith should not be in the wisdom of men but in the power of God." (1 Cor. 2:2-5)
Do we really manifest all that God has placed within us or are we just full of excuses (dressed in the form of doctrines) for why we fall so short of what seems to be plainly stated in the Scriptures? Are we covering up (hiding deep within us) the true image of God and His power? How can we tell? What standard do we use? Do we compare ourselves with the most spiritual within OUR denomination or movement? Do we compare ourselves with OUR understanding of the Scriptures? What if our understanding is false or incomplete? Is it possible to really read the Scriptures and be able to make an honest appraisal of our spiritual condition? How can we tell whether we are manifesting all that we should be manifesting at this stage of our Christian walk? Do you ever ask these kind of questions? Do you ever really get consumed by them--passionately holding onto them until you get an answer from above?
Ever since Adam and Eve first "hid themselves" from God, their descendants have been in the business of making idols--another word for making excuses.…reasons for why we fall short of the glory we once had, the memory of which has been covered with thousands of years of accumulated dust and ashes.
According to Jesus, Satan was a murderer, liar, and a thief from the beginning. Jesus came to give His Life which was filled with Truth. Jesus is the True Image of the invisible God.
If we honestly study church history, we would have to conclude that even from the early centuries, the institutional church as a whole, has reflected more characteristics of the murderer, liar and thief than the One Who laid down His life for the world. As we've said before, there are thousands of different images of God under the umbrella of Christianity. Of course it is always the one WE are in that is the one that reflects the true image of God…right?
Few of us will admit to ourselves, let alone to others, that we are idolaters, that we are hiding God's Glory with fleshly counterfeits. The Bible makes it quite plain in the Old Testament what Yahweh thinks of idolatry--death to those who practice it! And that is exactly what happens to anyone who does practice idolatry, Christian or otherwise--we die, spiritually speaking. We do not manifest the true image and life of God--instead, we manifest lies, false images in which there is no life. We manifest the power of the low life, the power of fallen man who became worse than the animals over which God gave us dominion. Jealousy, envy, greed, lust, anger, self-righteousness, bitterness, resentment and all manners of gross things are dressed them up as attributes of various gods. Look to the Greek and Roman pantheons. They are nothing more than super-sized expressions of man's passions. And we, Christians, are not exempt from this practice. Paul told Christians of the first century that to be carnally (fleshly, earthly) minded was DEATH. (Rom. 8:6) According to Paul, the carnal mind is an enemy of God and Christians certainly CAN be carnally-minded. (1 Cor. 3:1-6) To be denominationally-minded, Paul says, leads to DEATH! We MUST turn from this state of affairs if we are going to receive the precious and pure things of the Holy Spirit.
Few of us in the modern world, however, consider ourselves idolaters. That includes the "people of the Book," that is, both Jews and Christians. In this series of articles, we hope to show that our modern societies are just as idolatrous as the ancient Hebrews, Egyptians, Greeks, Romans, Babylonians, etc., and perhaps even more so. We are simply in a greater state of denial. Our false images are more sophisticated than the ancient ones. Most of the idols of the ancient people could not talk nor walk unless, of course, they worshipped human beings, like the Pharaohs and Caesars, who were even called gods. But our idols do all sorts of things most of the idols of yesteryear could not do. The communications industries and the manufacturing sectors of our societies have joined hands to create idols which make the ancient artisans look like pure amateurs. Many of our idols DO talk. The toy market is now being flooded with all kinds of stuff that talk their way into children's hearts. And grown-up talking idols? Why there's no end in sight. Is God still as concerned about idolatry today as He appeared to be in the Old Testament?
Let's face it, what we give our time and money to is what we really worship. Our time is our life. We exchange a part of our life (time spent working) for money. When we exchange our money for a product or service, we are really exchanging a part of our life for that product or service.
What we become passionate about, in a great measure, we become. It literally consumes us, that is, it saturates our conversation; it swallows up huge chunks of our time which is our life. It is like a fire. It truly swallows up our life. An impassioned person cannot hide that which they are enamored with. It truly does become their life, whether it be their job, a hobby, sports, religion, material possessions, a person, a cause, etc. They wreak with their passion. One can almost smell it. It's their favorite topic of conversation and thought. Now this fire, this passion of one's life, will one day meet another consuming fire--the ALL-CONSUMING FIRE OF GOD. And if there is nothing of eternal worth in that which consumed our time spent here on earth, it will vanish into nothingness. That is the fate of all lying vanities.
"Because you say, 'I am rich, have become wealthy, and have need of nothing'--and do not know that you are wretched, miserable, poor, blind, and naked--I counsel you to buy from Me gold refined in the fire, that you may be rich; and white garments that you may be clothed, that the shame of your nakedness may not be revealed; and anoint your eyes with eye salve, that you may see. As many as I love, I rebuke and chasten. Therefore be zealous and repent." (Revelation 3:17-19)
Jesus counsels us to BUY from Him "gold refined in the fire." What can we give Him in exchange for this gold? And what do you think this gold is?
"For no other foundation can anyone lay than that which is laid, which is Jesus Christ. Now if anyone builds on this foundation with gold, silver, precious stones, wood, hay, straw, each one's work will become clear; for the Day will declare it, because it will be revealed by fire; and the fire will test each one's work, of what sort it is. If anyone's work which he has built on endures, he will receive a reward. If anyone's work is burned, he will suffer loss; but he himself will be saved, yet so through fire." (1 Cor. 3:11-15) We pray that our work in writing these articles may stir the reader in such a way that they are able to turn more of their time here on earth towards eternal works and less towards works that will have to be burned away.
Idolatry--A Condition of the Heart
When idolatry matures, it truly becomes one's life. It becomes a condition deeply ingrained in the heart. What is our passion? Is Jesus REALLY our first love? Does He really consume our lives? Or are there many competing idols stealing our time, that is, our life? Are we making wise use of time? Are we buying gold from Jesus with our lives or are we buying idols to fuel fire?
"Now some of the elders of Israel came to me (Ezekiel) and sat before me. And the word of the LORD came to me, saying,
'Son of man, these men have set up their idols in their hearts, and put before them that which causes them to stumble into iniquity. Should I let Myself be inquired of at all by them?'" Ezekiel 14:1-3
Now that's an interesting question. "Should I let Myself be inquired of at all by them?" Here we have the leaders of the only true religion which Yahweh sanctioned by covenant and Yahweh says they are not worshipping the God they made a covenant with--they were worshipping IDOLS HIDDEN IN THEIR HEARTS! Oh, they still used Yahweh's name, but their passion was for those idols hidden in their hearts. And if the leaders were idolatrous, what would become of the people which they led?
As we can plainly see from the above Scripture, true idolatry, even in the Biblical period, was not a matter of bowing down to a piece of wood, stone, or some other object or place. True idolatry has always been really a matter of the condition of the heart.
Some simple but important questions: If a small child sincerely prays to a stone image of a snake to heal their mother's sickness, should the True God answer that prayer allowing that child to believe it's prayer to a piece of stone healed their mother? Should the True God answer prayers to images of God regardless of what belief systems they have? There are over thousands of different denominations and movements of Christianity, many of which vary greatly regarding their teachings of who the Father, Son, and Holy Spirit really are. Many sects add a host of other deities to the God-head, Mary, the mother of Jesus, being a leading example. Some Catholics are petitioning to make her co-redeemer with Jesus. Should the True God answer prayers directed towards Mary? There are some sects of Christianity that teach that dark-skinned people are not really people; they are mere beasts. Should the True God answer their prayers and thus give credibility to their false beliefs?
Jesus, Paul, and John warned about false images of Jesus, false Christs, anti-christs, false teachings being taught by men and women seeking to draw Christian disciples after themselves. Today we have thousands of sects of christendom formed by men and women, fashioned after their understanding of the Scriptures. Should God answer their prayers and thus perpetuate their false concepts?
"Therefore take heed to yourselves and to all the flock, among which the Holy Spirit has made you overseers, to shepherd the ekklesia of God which He has purchased with His own blood. For I know this, that after my departure savage wolves will come in among you, not sparing the flock. Also from among yourselves men will rise up, speaking perverse things, to draw away the disciples after themselves." (Acts 20:28-30)
Paul said this would occur "after his departure." This occurred 1900 years ago. In Paul's day he had to come against people following after Apollos, other men or even himself. This tendency of following men and women rather than being led by the Holy Spirit has produced thousands of denominations. We see in the above Scripture that there were those within and without the ekklesia seeking to draw God's sheep away from being led by the Holy Spirit. Could the fact that most Christians have been drawn away from the Holy Spirit be part of the reason why we do not see much of the resurrection power of Jesus in Christians today?
We have sects built upon the teachings of Luther, Calvin, Zwingli, Wesley, the Popes, Campbell, Smith, White and thousands of other men and women. Few found in the various denominations of Christendom would acknowledge that they have been drawn away from Christ by men "speaking perverse things to drawn disciples after themselves." Just because God uses a particular man to restore certain truths back to Christians does not mean we should build walls (denominations) around that truth. Martin Luther is NOT the author of faith even though it was a tremendous revelation to him. Jesus is the author and finisher of our faith. It is Jesus who should be exalted when speaking of faith, NOT Martin Luther. Anyone who has ever read about the personal life of Luther knows he falls FAR short of the life of Jesus. This goes for other denominations founded on personalities other than Jesus Christ.
There is a justification of denominationalism that goes like this: one denomination is Jesus' heart, another the lungs, and another the feet, etc. This just doesn't wash. It certainly doesn't hold to the Scriptures. It's time to call denominationalism what it has always been--idolatry--substituting the true image of God for thousands of false ones. Stop it, Christians--just plain stop it!
We have sects built upon forms of church government, on nationalism, on race, on which books are actually inspired or not, on styles of music, or how to be baptized, or what God's real name is and how it should be pronounced, which day to worship on, whether one can have rubber tires on their tractors, or how long a woman's skirt should be (I'm NOT kidding!), and thousands upon thousands of other man-made rules, rituals, and ruts. All rules of men!
In our early walk, when we were looking for the "right" church, the right truths to obey, we went to several hundred different churches. I (Gary) have studied the beliefs of many different denominations of Christianity. There are probably more different denominations of Christianity in the world than there are other religions. They are obviously not all right. Many, if not all, have false concepts of God, false images, many rules of men and thus, are in idolatry. God asks,
"Should I let Myself be inquired of at all by them?"
This is a very serious question, indeed! Saints, we must come clean. We must really get serious about this. The time for hiding our idols under the rug are over. Why are we afraid of checking to see where we stand with God? Are we afraid we might have been wrong all our lives? Are we afraid our image of God will have to change? Does that mean we may lose friends? Might we get kicked out of our church if we begin to question it's beliefs? Is our fear of what others think actually greater than our love of God? If that is the case, is our God really real? Or do we like our false image of God because it justifies our anger, self-righteousness, pride, prejudices, etc? Are we simply not willing to let them go, thereby, hanging onto our false image which projects our own shortcomings instead of manifesting God's glorious reality?
To answer these questions will require a journey into the heart and mind of God Himself and into the heart and mind of man. In these places are where the Truth and the Lies reside. It is here where the Divine, All-consuming Fire of the True God as well as the "strange fire" of man exist.
Unbelief was the great sin of Israel when Jesus visited them 2,000 years ago. Unbelief was the obstacle that even prevented His first disciples from fully manifesting the power of the Kingdom of God. And it is also unbelief that is preventing us from manifesting the Kingdom of God today. When Adam and Eve lost God's glory, they also lost clarity, freedom, grace and power that came with it. The very first thing they offered to God instead of an honest acknowledgement of their sin, was excuses. They blame-shifted. "The woman YOU gave me" did this. And Eve was no better, "The serpent (which YOU made more subtle than me) beguiled me." From the truth to excuses, from excuses to jealousy, anger for getting caught, etc. From there it went to murder, first individually Cain killing his brother Abel. Ultimately it would gravitate to mass murder. It seems the more "civilized" mankind becomes, the greater the amount of mass murder. WWII took sixty-six million lives!
All this stems from not truly knowing God, not knowing how God views our neighbors and ourselves. We've lost our true reference point. Studying church history, there is very little evidence the church-at-large has made any great headway towards manifesting the True Image of God or manifesting the nature of the God we claim to be conforming to.
"If my people who are called by My name will humble themselves, and pray and seek My face, and turn from their wicked ways, then I will hear from heaven, and will forgive THEIR sins and heal their land." (2 Chronicles 7:14) The entire earth is the inheritance of His saints. If we, Christians, corporately were to truly enter this place of confession from the depths of our hearts, this world would begin to change overnight.
Jesus is our High Priest and intercessor and He invites us to participate in that urgently needed intercessory role. But how? Romans 8:26 says, "Likewise the Spirit also helps in our weaknesses. For we do not know what we should pray for as we ought, but the Spirit Himself makes intercession for us with groanings which cannot be uttered." This place of intercession is a strange place which is very difficult to write about. But I must confess, it is a place of great power AND a place I find I have not come to often enough. There are millions of professing Christians who do not even know this place exists. It is a sign of the greatness of our sin of unbelief and a lack of our oneness with Jesus.
NKJ Romans 1:18 "For the wrath of God is revealed from heaven against all ungodliness and unrighteousness of men, who suppress the truth in unrighteousness, because what may be known of God is manifest in them, for God has shown it to them. For since the creation of the world His invisible attributes are clearly seen, being understood by the things that are made, even His eternal power and Godhead, so that they are without excuse, because, although they knew God, they did not glorify Him as God, nor were thankful, but became futile in their thoughts, and their foolish hearts were darkened. Professing to be wise, they became fools, and changed the glory of the incorruptible God into an image made like corruptible man -- and birds and four-footed animals and creeping things. Therefore God also gave them up to uncleanness, in the lusts of their hearts, to dishonor their bodies among themselves, who exchanged the truth of God for the lie, and worshiped and served the creature rather than the Creator, who is blessed forever. Amen."
The first chapter of Romans is frequently quoted by Christians (particularly Fundamentalists and Evangelicals) to show that unbelievers will be without excuse at the Great White Throne Judgment. Sadly, it is a rare Christian indeed, who reads this scripture, first applying it to their own heart before judging another with it.
In this series of articles, we hope to look at images of God from many different angles. Like we said previously, we will employ many disciplines in this study. As the first chapter of Romans says, God has made plain in many natural objects all around us Who He truly is. While using this Scripture to judge unbelievers, it is we Christians who have been blind to the Glory all around us. We hope these articles will at least cause some of the readers to turn inwardly, to set aside our excuses and blame-shifting and take a few steps closer towards the humility found in Christ. We hope to help bring about a deep spirit of repentance among the readership and thereby spark a positive change in our fellowship in the body of Christ and in our communities. Remember, "If MY people, who are called by MY name will humble THEMSELVES and turn from THEIR wicked ways…." God is waiting for Christians to repent, not for unbelievers to repent. Our inheritance (the world) will follow us, when WE truly repent and turn from our wicked ways.
Most of you know that in the Bible, gold is a symbol for divinity, God's "glory," reality, true life. To test the quality of natural gold, they employed a black stone mined in Lydia, a city north of Jerusalem called the "touchstone." In the Greek it is called "basanos." It is found a few times in the Greek New Testament, but mistranslated. A piece of gold would be struck against that stone leaving a thin streak of gold on the stone. This mark would be compared to the mark left by pure gold. To the expert eye, one could thereby determine how pure the gold was or whether it was gold at all. This stone is still used in some parts of the world.
In the Book of Revelation, (Rev. 20:10), the word mistranslated "torment" is derived from basanos.) It is used as a symbol for testing for the divine nature. When the touchstone is applied to your life, will it be filled with gold bought from Jesus or will it be filled with sparkling imitation gold trinkets of religion and the cares of this world? Will we find that our lives have been poured out on some denomination whose foundation is a dead man, whose structure is made-up of dead rituals and traditions and the doctrines of demons? Or will your life show that you have been led by the Holy Spirit into works prepared from the foundation of the world that believers should walk in? Oh, saint, grab these words. Chew on them slowly There is life here!
Let us use the reality behind this "touchstone" symbol to test whether our concepts and teachings about God and man are true or false. Let us see if there be any "beautiful Babylonian garments (religious garments), 200 shekels of silver, and a wedge of gold weighing 50 shekels" hidden in OUR tents. Oh, yes, we see gold here, but is it gold bought from Jesus? His gold is quite different from the world's gold.
We want to leave each reader with a suggestion that will allow each to gain the most from reading this series of articles. We must each ask our Father to allow the Holy Spirit to bring us to a deep place of humility. Instead of assuming that it's those in other denominations who are in idolatry, we must first see whether it is us. Considering the number of denominations, the odds are great that we are in some form of idolatry ourselves. And even if we are supposedly "non"-denominational from a religious point of view, how many idols of the secular world are we bowing down to? Even "our" church can (and often does) become an idol.
Ever since Adam lost his glory, mankind has been always looking for a good substitute. If it isn't "fig leaves," it's something else. Most of us feel very uncomfortable about the thought of standing in the presence of God naked. But that is where we will have to come to before He will reclothe us with Himself. He gives us a robe of righteousness, His righteousness, His right standing with the Father. But when we leave the holiness of this perfect realm and start collecting idols (which cost time and money, our life), we begin to reflect the false glory of those idols instead of the righteousness of Christ. These idols become clothes which cover the righteousness we received from Jesus. The simplicity of the "Good News" becomes tarnished with lies.
It is difficult for the Western mind to grasp (because of the "clothes horses" we have become), but clothing was a scare commodity in Jesus' time. Those who were rich would show their richness by wearing layer upon layer of clothing. I recall a conversation with a Baptist minister regarding denominationalism. He said, "Well, Gary, I'm a Christian first, and a Baptist, second." And he was probably a Mason third and something else fourth. Layer upon layer of clothing hiding the robe of righteousness. This is called "losing our first love." The robe of righteousness gets hidden beneath all these other "Babylonian garments." These robes become part of our identity, our very lives. And woe to the person who comes along and tells us they are all "wood, hay, and stubble," awaiting the fire.
Many Christians get enraged at just the thought of taking these extra layers of clothing off. Why? Because the world around us tells us they are beautiful, or glorious. Glorious clothing? Yes! Many religious leaders have chosen this occupation not because God called them to it, but because there was power, honor and status in the community in that position. When one is introduced as "Reverend so and so" or "Pastor such and such," there is an honor and assumed righteousness behind those titles. True, that glory is getting tarnished more and more, as everything done in darkness is being exposed, but there is still enough clout for men and women to spend their lives to get and keep these robes (titles, honors, positions, etc.) There are many types of "Babylonian garments." We will look at some of them when we take a look at "fig leaves" and what they represent.
The Purpose of the Commandment
"Now the purpose of the commandment is love from a pure heart, a good conscience, and from sincere faith, from which some, having strayed have turned aside to idle talk, desiring to be teachers of the law, understanding neither what they said nor the things which they affirm." 1 Tim. 1:5-6
Love from a pure heart, a good conscience, and from sincere faith. If our devotion to God was just centered around this one simple phrase, most of us would be miles ahead in our walk with the Lord. This is what the Lord wants out of our lives. A certain kind of fire is the instrument that will be used to remove everything in our lives that is not centered around a pure heart, a good conscience, and sincere faith. Elijah shows us that the way to expose idolatry was by fire from God. (1 Kings 18:19-46) Daniel's friends also found out what would happen when one was thrown into literal fire, yet stayed true to the true imagine of God. They were thrown into a fire seven times hotter than normal because they refused to enter idolatry. Yet the only things that were burned off them were THE ROPES WITH WHICH MEN BOUND THEM! (Dan. 2:48-3:30) The fire of man, no matter how hot man makes it, will not harm a person whose righteousness is from God. Not even their garments will be singed nor will they smell of smoke. (Breaking Bread Number One, "Fire in the Bible" might be a good article to read while considering this topic. You may write for a copy.)
The fear of man and the traditions of men are two of the greatest powers on earth.
Jesus said,
"You have made the word of God of NO effect by your traditions. Hypocrites! Well did Isaiah prophesy about you, saying, 'These people draw near to Me with their mouth, and honor Me with their lips, but their heart is far from Me. And in vain they worship Me, teaching as doctrines the commandments of men.'" (Matt. 15:6-9)
Is it possible that we may hear those words one day? Are we so sure of our position with God that we won't even test our faith to see how pure it is? If given the opportunity to "touchstone" our faith, what would prevent us from doing so? Pride? Self-righteousness? Shame? Fear? Do these things belong in the hearts of believers? Of course not.
The Father Is Seeking…
NKJ John 4:23 "But the hour is coming, and now is, when the true worshipers will worship the Father in spirit and truth; for the Father is seeking such to worship Him.
The Father is actually "seeking" those who will worship Him in spirit and truth. The English word "worship" comes from the Old English word "weorthscipe," weorth meaning "worthy" and scipe meaning "shape, condition, or quality" and so "the condition of being worthy." I am convinced that if we Christians truly knew our Father intimately "in spirit and truth" that our lives would be completely consumed by our daily acknowledgement of His "worthship." Everything would change. Our whole outlook on life would experience such a great change that it would dramatically effect the entire world in a very positive way.
The fact that most of us Christians are consumed with many of the cares of this world just like unbelievers reveals that we do not really know Him "in spirit and truth." Our relationship with Him is too shallow. It is not so deep that we are totally consumed by Him--we are not obsessed with Him and His Word, His Will, His Works, and His Ways. To the extent that we are not obsessed with these things, we are in unbelief and in idolatry. But because most of the Christian world is in the same condition, we do not realize the death state we are in. It is acceptable to become fanatical over foolish things like sports, but not about God. Yet many of us wonder where the power is.
A sports fan who enters fanaticism pours their life into their passion. They spend great amounts of time and large sums of money on their passion. The more passionate the owners of these sports team can make their fans, the more money they will make. In the kingdom of God, the more impassioned and consumed we become with the kingdom of God and its righteousness, the more empowered we will become. It's really quite simple, isn't it…why we are not bringing change in the world…we are not impassioned for the things of the kingdom of God.
The kingdom of God is hidden under so many layers of lies, excuses, false doctrines, unbelief, idolatry and cares and concerns not related to the kingdom, that we are about as dead as the rest of the world. The only difference between them and us is that we have His name…but do we manifest His life?
KJ Isaiah 4:1 And in that day seven women shall take hold of one man, saying, "We will eat our own food and wear our own apparel; only let us be called by your name, to take away our reproach."
Does this Scripture reflect the condition of much of the church world? We have Jesus' name, but we eat our own man-made "food" and wear our own "self"-righteous, religious, denominational rags. We do not eat His life, that is, His will, and we do not allow His garment of righteousness to be our only covering.
NKJ John 6:53 says, "Then Jesus said to them, 'Most assuredly, I say to you, unless you eat the flesh of the Son of Man and drink His blood, you have no life in you.'"
This is a saying which turned most of the Jews away from Jesus. They did not understand what He was saying. Have things REALLY changed that much? Nearly two billion Christians use His name, but do we manifest Him?
If the reader is not content with remaining in this condition, then you may find some great value in this series of articles. Be warned--we are going to cut through the flesh of man, cut through the layers of clay, through the layers of lies and excuses, through the many layers of religious garments and other garments which are hiding the life of Christ buried deep within us. It seems almost as if we are like Lazarus (whom God helps) walking around with his grave clothes still on. Let the Holy Spirit remove all that is not of Christ.
A friend, Dietland Bettridge, asked the question:
"Since GOD is SPIRIT, and GOD is LOVE, and GOD is LIFE, and GOD is LIGHT, in Him is no darkness at all, what would the manifestation of the SONS, OFFSPRING or the BRANCHES of this GOD be like?" (Romans 8:19)
Most of us are afraid to ask such daring questions, let alone explore the answer. We are locked up in more fear than we care to acknowledge. Let us break the yoke of tradition and explore the height, width, depth and length of our Father's love towards us. And let us see if there be any hindrances within us that might prevent the fullness of all that He desires to manifest through us from coming forth. Let us then embark on this great journey into the heart of God and into our own hearts and see what is there. Let us touchstone (test) our hearts and see if there be any impurities which should be removed so that we can draw nearer to God with purer hearts and cleaner hands. "IF God be for us, who can be against us?" What do we have to fear?! Let us be bold in our pursuit of Christ.
We'll begin our journey by looking at a couple of "little boys." "Unless you become as little children, you cannot see the kingdom of God." (Matt. 18:3) We said there are many portions of Scriptures in our English translations which do NOT convey the true meaning of the original meanings nor the true heart of God. The following story illustrates how our perceptions of God's vengeance will change as we press beyond superficial Bible studies and dig a little deeper. It takes some digging to come up with these precious truths. But if we stop spending our lives buying idols, we will have ample time for digging up gold nuggets in all sorts of places, especially the Bible. Since we must become as little children if we are ever to see the kingdom of God, let's look into the life a small boy named Abraham. Perhaps we can learn something great when we humble ourselves and become small.
Hot Coals on Our Enemies' Heads
"Abraham, wake up, son. It's time to bless the village."
His mother had been up much early striking the flint to prepare the coals which Abraham would carry to each of the homes in his small village.
It is hard for us Westerners to appreciate many of the seemingly insignificant details found in the simple life of the Jews of Palestine. Hundreds, no, thousands of treasures lie on the pages of our Bibles if we would but dig back a few thousand years.
It was customary in the ancient East to share the responsibility of preparing the fires on which the women would prepare the meals for the day. Families would take turns rising up especially early to make enough coals to start fires for each family in the village. Then these coals would be placed in a container, perhaps a broken piece of pottery. A child was usually selected to take the coals to each home in the village so they might use them to start the fires for their homes.
Abraham was just days away from his Bar Mitzvah. Very soon he would become a "son of commandment" and be allowed to sit with the men. As he went from home to home, he practiced the portion of Scripture he would read on this great occasion in a Jewish boy's life. The coals on his head were nice and warm bringing their warmth all the way down to his toes.
Gentle knock at the door of the Solomon home.
"Ah, good morning, Abraham. Thank you for bringing the coals." The lady of the house took just enough coals to start her own fire.
Abraham felt good, bringing fire to each of the houses in the village while singing a Psalm.
"Bless the Lord, O my soul!
O Lord by God, You are very great:
You are clothed with honor and majesty,
Who cover Yourself with light as with a garment,
Who stretch out the heavens like a curtain.
He lays the beams of His upper chambers in the waters,
Who makes the clouds His chariot,
Who walks on the wings of the wind,
Who makes his angels spirits,
His ministers a flame of fire."
Yes…Abraham is warm…his body is warm from the heat of the coals on his head and his soul is warm towards the Lord as He sings of the greatness of Yahweh. His mind flashes back to the day the vessel on his head came to be used for carrying hot coals.
His sister, Ruth, had gone to the well to bring the family its daily water supply with her clay jug. He was playing with his friends, Jacob and Ephraim. Ephraim was chasing him. Trying to escape, Abraham ran around his sister, grabbing one of her arms as he hid behind her. Ruth was caught off balance and the clay vessel on her head came crashing down.
Ruth immediately burst into tears as she ran towards her home. She felt ashamed. The Semites had many deep-rooted traditions--traditions that are hard for other peoples to understand. The clay water container to Ruth was like her soul. In Semitic mindset, the body is like a clay vessel which contains the water of life, that is, the soul. So in a sense, for this water girl, her life was broken and poured out on the dirt. I realize it may be difficult for us Westerners to grasp these feelings. The idea of shame is becoming a rare commodity these days in our culture.
In those days, (and even to this day in some middle Eastern villages) all the large pieces of the water-pot would of course be saved and used for other purposes. Job used such a piece to scrape his sores. The largest piece would become the "brazier" to be used to carry the coals from house to house. It was not uncommon to see in the middle of the day a young boy carrying a few coals to a neighbor's house whose fire had gone out. And if one wanted to be generous, they would give a heaping pile, which would get the fire going quickly.
Each piece of the broken water-pot would find a useful purpose. Only the smallest pieces would be discarded being buried on the property of the owner. A broken water-pot would become a "vessel of destruction," that is, a vessel which no longer served its original purpose. This is how the ancients used this term. Amazing, isn't it, how differently the Bible begins to read when we immerse ourselves into the culture of the Biblical period. Perhaps we are entering a time when the Lord will remove the thick layers of crust over our eyes so that we can catch the spirit of the original writers. It is really quite difficult to see through the thick, cloudy scales of the traditions and superstitions of men. These traditions and superstitions have covered the truth like the cities of bygone days which have been covered with layer upon layer of dust and sand, waiting for this generation to unearth them so that they could retell their stories. We call these earth-covered cities, "tells." The Arab world is sitting on thousands of "tells" waiting for minds who are ready to receive the truth they have to "tell" us.
Having read the above story, perhaps the following portion of Scripture begins to take on a different meaning:
"Bless those who persecute you; bless and do not curse. Rejoice with those who rejoice, and weep with those who weep. Be of the same mind toward one another. Do not set your mind on high things, but associate with the humble. Do not be wise in your own opinion.
"Repay no one evil for evil. Have regard for good things in the sight of all men. If it is possible, as much as depends on you, live peaceably with all men. Beloved do NOT avenge yourselves, but rather give place to wrath; for it is written, 'Vengeance is Mine, I will repay,' says the Lord. Therefore,
'If your enemy hungers, feed him;
If he thirst, give him a drink;
For in so doing you will HEAP HOT COALS ON HIS HEAD.'
"Do not be overcome by evil, but over come evil with good. Romans 12:14-21
==============
In the first story we read about a "little boy" bringing blessings to his village. Our modern English Bible translations do not make this clear. The idea Paul was trying to convey was that if our enemies can be won through love, they, themselves may become vessels that spread goodness instead of evil. There are literally thousands of these kinds of beautiful pictures which most of our current Bible translations do NOT bring forth. Therefore, most leading selling Bible translations do NOT clearly convey the true heart of the Father. Sadly, neither do many of our "Christian" traditions. "By your traditions, you have made the Word of God of no effect." In this series of articles, with the help of the Holy Spirit, we hope to begin to remedy some of that.
Let's Look At Another "Little Boy"
Only a few decades ago, another "little boy" poured hot coals on his enemies' heads. This "little boy" was not born of a woman, but of a handful of men.
A handful of military, political and industrial men decided to create this "little boy" to visit a large village far away. Their purpose was also to drop hot coals on their enemies' heads. To create this "little boy" required the participation of several hundred thousand men and women. This handful of men did not think it was expedient to tell the hundreds of thousands of other citizens what they were up to. Therefore, they created this "little boy" in a way that no one involved in his creation knew what they were building. They were just being paid to do a job. It's wartime. No time for questions. Just do what you're told. If these hundreds of thousands of men and women saw in advance the destruction this "little boy" would cause, they may have decided not to participate regardless of the consequences.
Several of America's leading corporations were the main organizers of this top secret project to create and send this "little boy" to a large village thousands of miles away from America. Chrysler Corporation was at the head of this project with companies such as Westinghouse and others participating.
Most of those people used to create this "little boy" were "people of the Book," that is, Christians and Jews. It cost billions of dollars to create this "little boy" employing tens of thousands of men and women. When it came time to see if their creation could actually deliver the hot coals he was created to send, they sent him to a place called "Trinity." Well, that sounds like a reasonable name considering that it was primarily Christians who were creating this "little boy." This fire which this "little boy" delivered was created in the "melting pot" of the world, the United States, the world's leading "Christian" nation.
(I realize as I am writing, some Christians may feel offended. I don't mean to give offense. But it really is time we Christians seriously take a harder look at some of our actions in this world. I think we need to rediscover the word "shame" for some of our actions both individually and corporately. WE need to learn our need for mercy before we can become vessels dispensing His mercy to others.)
With the mathematical equations in place and some actual tests, this handful of military, political, and industrial men knew exactly how many coals they were going to "pour" on their enemies' heads.
They put this "little boy" into a bird named "Enola Gay," a B-29 developed by the Chrysler Corporation. On August 6, 1945, at 8 o'clock in the morning, the "little boy" would do as Abraham did to his village, drop off his fire to the houses of the village. Only this "little boy's" fire did not heat their homes nor provide fire with which to bake their bread…the fire literally baked THEM! Some of them were completely vaporized. Of Hiroshima's 90,000 buildings, 62,000 were destroyed and more than 6,000 more damaged beyond repair.
Instead of receiving a fire that overcame the Japanese's evil through love, the majority of the civilian men, women, and children of Hiroshima were either instantly killed (some were actually vaporized) or suffered injuries the likes of which had never been experienced throughout the barbaric history of mankind. What is perhaps even more striking about this story is that some of those who were in Hiroshima were Christians. (Christians killing Christians seems to be the story of church history for many hundreds of years.) There were Christian missionaries in the city and pastors who had been trained in the United States. One would have expected a country like Russia or China who promote atheism to be the first countries in the world to use such a weapon of "mass destruction." But it was the country that prides itself as being "One nation, under God…" that has been the only nation in the world to do such a thing to other human beings, not once, but twice!
I did not make up the name "little boy" for the bomb dropped on Hiroshima. That is the name that someone on this project gave this bomb. And one of the key sites which worked out the technique to form this "little boy" was at Los Alamos, New Mexico, formerly a boy's ranch. This site was named "Trinity."
The other bomb, dropped three days later on Nagasaki, was named "fat man." This "little boy" and his companion the "fat man," created using the "people of the Book," in a matter of a few seconds killed tens of thousands of men, women, and children. These two bombs would ultimately take the lives of several hundred thousand men, women, and children, but not before torturing thousands of them in a cruel lingering hellish existence from radiation poisoning. I think the naming of these bombs and the sites gives us somewhat of an idea of the mentality of the leadership of this project.
Below are some excerpts from the book "Hiroshima" by John Hersey published by Alfred A. Knopf, 1946. The information about the "little boy" bomb came from "Secret" by Wesley W. Stout, published by Chrysler Corporation, 1947.
I realize that it will be much more difficult for Americans reading this article to grasp the full meaning and implications of this first segment of this series of articles. Our cultural and national biases will certainly come against our ability to grasp the full contrast of these two "little boys." I can only pray that our heavenly Father gives the grace needed to get past those biases so that we can move on out of this gross darkness into His marvelous light.
Hiroshima, August 6, 1945 (A True Story)
"At nearly midnight, the night before the bomb was dropped, an announcer on the city's radio station said that about two hundred B-29s were approaching southern Honsu and advised the population of Hiroshima to evacuate to their designated "safe areas." Mrs. Hatsuyo Nakamura, the tailor's widow, who lived in the section called Nobori-cho and who had long had a habit of doing as she was told, got her three children--a ten-year-old boy, Toshio, an eight-year-old girl, Yeako, and a five-year-old girl Myeko--out of bed and dressed them and walked with them to the military area known as the East Parade Ground, on the northeast edge of the city. There she unrolled some mats and the children lay down on them. They slept until about two, when they were awakened by the roar of the planes going over Hiroshima.
"As soon as the planes had passed, Mrs. Nakamura started back with her children. They reached home a little after two-thirty and she immediately turned on the radio, which, to her distress, was just then broadcasting a fresh warning. When she looked at the children and saw how tired they were, and when she thought of the number of trips they had made in past weeks, all to no purpose, to the East Parade Ground, she decided that in spite of the instructions on the radio, she simply could not face starting out all over again. She put the children in their bedrolls on the floor, lay down herself at three o'clock and fell asleep at once, so soundly that when the planes passed over later, she did not waken to their sound.
"The siren jarred her awake at about seven. She arose, dressed quickly, and hurried to the house of Mr. Nakamoto, the head of her Neighborhood Association, and asked him what she should do. He said that she should remain at home unless an urgent warning--a series of intermittent blasts of the siren--was sounded. She returned home, lit the stove in the kitchen, set some rice to cook, and sat down to read that morning's Hiroshima Chugoku. To her relief, the all-clear sounded at eight o'clock. She heard the children stirring, so she went and gave each of them a handful of peanuts and told them to stay on their rolls, because they were tired from the night's walk. She had hoped that they would go back to sleep, but the man in the house directly to the south began to make a terrible hullabaloo of hammering, wedging, ripping, and splitting. The prefectural government, convinced, as everyone in Hiroshima was, that the city would be under attack soon, had begun to press with threats and warnings for the completion of wide fire lanes, which, it was hoped, might act in conjunction with the rivers to localize any fires started by an incendiary raid; and the neighbor was reluctantly sacrificing his home to the city's safety. Just the day before, the prefecture had ordered all able-bodied girls from the secondary schools to spend a few days helping to clear these lanes, and they started work soon after the all-clear sounded.
"Mrs. Nakamura went back to the kitchen, looked at the rice, and began watching the man next door…
"…As Mrs. Nakamua stood watching her neighbor, everything flashed whiter that any white she had ever seen. She did not notice what happened to the man next door; the reflex of a mother set her in motion toward her children. She had taken a single step (the house was 1,350 yards, or three-quarters of a mile, from the center of the explosion) when something picked her up and she seemed to fly into the next room over the raised sleeping platform, pursued by parts of her house.
"Timbers fell around her as she landed, and a shower of tiles pummeled her; everything became dark, for she was buried. The debris did not cover her deeply. She rose up and freed herself. She heard a child cry, "Mother, help me!," and saw her youngest--Myeko, the five-year-old--buried up to her breast and unable to move. As Mrs. Nakamura started frantically to claw her way toward the baby, she could see or hear nothing of her other children.
~~~~~~~~
"Mr. Tanimoto was the pastor of the Hiroshima Methodist Church. He had studied theology at Emory College, in Atlanta, Georgia, spoke excellent English, dressed in American clothes, and corresponded frequently with American friends. Since many of the major Japanese cities had already been bombed by hundreds of B-29 American bombers, the citizens of Hiroshima were bracing for their turn to be visited by Mr. B as the B-29 were respectfully called by the Japanese.
"Mr. Tanimoto had already moved by push cart the lighter materials of his church--chairs, hymnals, Bibles, altar gear, etc. A neighbor helped him get the piano out and in return, he had to help his neighbor with some of his heavier furniture.
"There was no sound of planes. The morning was still; the place was cool and pleasant.
"Then a tremendous flash of light cut across the sky. Mr. Tanimoto has a distinct recollection that it traveled from east to west, from the city towards the hills. It seemed a sheet of sun. Both he and Mr. Matsua reacted in terror--and both had time to react (for they were 3,500 yards, or two miles from the center of the explosion.)…Mr. Tanimoto took four or five steps and threw himself between two big rocks in the garden. He bellied up very hard against one of them. As his face was against the stone, he did not see what happened. He felt a sudden pressure, and then splinters and pieces of board and fragments of tile fell on him. He heard no roar. (Almost no one in Hiroshima recalls hearing any noise of the bomb. But a fisherman with whom Mr. Tanimoto's mother-in-law and sister-in-law were living, saw the flash and heard a tremendous explosion; he was nearly twenty miles from Hiroshima, but the thunder was greater than when the B-29s hit Iwakuni, only five miles away.)…
"…After the terrible flash--which, Father Kleinsorge later realized, reminded him of something he had read as a boy about a large meteor colliding with the earth--he had time (since he was 1,400 yards from the center) for one thought: A bomb has fallen directly on us. Then, for a few seconds or minutes, he went out of his mind.
"Father Keinsorge never knew how he got out of the house. The next things he was conscious of were that he was wandering around in the mission's vegetable garden in his underwear, bleeding slightly from small cuts along his left flank; that all the buildings round about had fallen down except the Jesuits' mission house, which had long before been braced and double-braced by a priest named Gropper, who was terrified of earthquakes; that the day had turned dark; and that Murata-san, the housekeeper, was nearby, crying over and over, "She Jesusu, awaremi tamai! Our Lord Jesus, have pity on us!"
"Immediately after the explosion, the Reverend Mr. Kiyoshi Tanimoto, having run wildly out of the Matsui estate and having looked in wonderment at the bloody soldiers at the mouth of the dugout they had been digging, attached himself sympathetically to an old lady who was walking along in a daze, holding her head with her left hand, supporting a small boy of three or four on her back with her right, and crying, "I'm hurt! I'm hurt! I'm hurt!" Mr. Tanimoto transferred the child to his own back and led the woman by the hand down the street, which was darkened by what seemed to be a local column of dust. He took the woman to a grammar school not far away that had previously been designated for as a temporary hospital in case of emergency. By this solicitous behavior, Mr. Tanimoto at once got rid of his terror. At the school, he was much surprised to see glass all over the floor and fifty or sixty injured people already waiting to be treated. He reflected that although the all-clear had sounded and he had heard o planes, several bombs must have been dropped. He thought of a hillock in the rayon man's garden from which he could get a view of the whole of Koi--of the whole of Hiroshima, for that matter--and he ran back up to the estate.
"From the mound, Mr. Tanimoto saw an astonishing panorama. Not just a patch of Koi, as he had expected, but as much of Hiroshima as he could see through the clouded air was giving off a thick, dreadful miasma. Clumps of smoke, near and far, had begun to push through the general dust. He wondered how such extensive damage could have been dealt out of a silent sky; even a few planes, far up, would have been audible. Houses nearby were burning, and when huge drops of water the size of marbles began to fall, he half thought that they must be coming from the hoses of firemen fighting the blazes. (They were actually drops of condensed moisture falling from the turbulent tower of dust, heat, and fission fragments that had already risen miles into the sky above Hiroshima.)
…"Dr. Fujii, who was in his underwear, was now soaking and dirty. His underskirt was torn, and blood ran down it from the bad cuts on his chin and back. In this disarray, he walked out onto Kyo Bridge, beside which his hospital had stood. The bridge had not collapsed. He could see only fuzzily without his glasses, but he could see enough to be amazed at the number of houses that were down all around. On the bridge, he encountered a friend, a doctor named Machii, and asked in bewilderment, "What do you think it was?"
"Dr. Machii said, "It must have been a Molotovffano hanakago"--a Molotov flower basket, the delicate Japanese name for the "bread basket," or self-scattering cluster of bombs.
"At first, Dr. Fujii could see only two fires, one across the river from his hospital site and one quite far to the south. But at the same time, he and his friend observed something that puzzled them, and which, as doctors, they discussed: although there were as yet very few fires, wounded people were hurrying across the bridge in an endless parade of misery, and many of them exhibited terrible burns on their faces and arms. "Why do you suppose it is?" Dr. Fujii asked. Even a theory was comforting that day, and Dr. Machii stuck to his. "Perhaps because it was a Molotov flower basket." He said.
…"New fires were leaping up and they spread quickly and in a very short time terrible blasts of hot air and showers of cinders made it impossible to stand on the bridge any more…Dr. Fugii went back into the water of the river and waited for the fire to subside.
"Mr. Tanimoto (the Methodist pastor), fearful for his family and church, at first ran toward them by the shortest route, along Koi Highway. He was the only person making his way into the city; he met hundreds and hundreds who were fleeing, and every one of them seemed to be hurt in some way. The eyebrows of some were burned off and skin hung from their faces and hands. Others, because of pain, held their arms up as if carrying something in both hands. Some were vomiting as they walked. Many were naked or in shreds of clothing. On some undressed bodies, the burns had made patterns--of undershirt straps and suspenders and, on the skin of some women (since white repelled the heat from the bomb, and dark clothes absorbed it and conducted it to the skin), the shapes of flowers they had had on their komonos. Many, although injured themselves, supported relatives who were worse off. Almost all had their heads bowed, looked straight ahead, were silent, and showed no expression whatever.
"After crossing Koi Bridge and Kannon Bridge, having run the whole way, Mr. Tanimoto saw, as he approached the center, that all the houses had been crushed and many were afire. Here the trees were bare and their trunks were charred. He tried at several points to penetrate the ruins, but the flames always stopped him. Under many houses, people screamed for help, but no one helped; in general, survivors that day assisted only their relatives or immediate neighbors, for they could not comprehend or tolerate a wider circle of misery. The wounded limped past the screams, and Mr. Tanimoto ran past them. As a Christian he was filled with compassion for those who were trapped, and as a Japanese he was overwhelmed by the shame of being unhurt, and he prayed as he ran, "God help them and take them out of the fire."
…"It began to rain. Mrs. Nakamura kept her children under the umbrella. The drops where abnormally large, and someone shouted, "The Americans are dropping gasoline. They are going to set fire on us." (This alarm stemmed from one of the theories being passed through the park as to why so much of Hiroshima had burned: it was that a single plane had sprayed gasoline on the city and then somehow set fire to it in one flashing moment."
"Just before dark, Mr. Tanimoto came across a twenty-year-old girl, Mrs. Kamai, the Tanimoto's next door neighbor. She was crouching on the ground with the body of her infant daughter in her arms. The baby had evidently been dead all day. Mrs. Kamai jumped up when she saw Mr. Tanimoto and said, "Would you please try to locate my husband?"
Mr. Tanimoto knew that her husband had been inducted into the Army just the day before; he and Mrs. Tanimoto had entertained Mrs. Kamai in the afternoon, to make her forget. Kamai had reported to the Chugoku Regional Army Headquarters--near the ancient castle in the middle of town--where some four thousand troops were stationed. Judging by the many maimed soldiers Mr. Tanimoto had seen during the day, he surmised that the barracks had been badly damaged by whatever it was that had hit Hiroshima. He knew he hadn't a chance of finding Mrs. Kamai's husband, even if he searched, but wanted to humor her. "I'll try," he said. "You've got to find him," she said. "He loved our baby so much. I want him to see her once more."
"The night was hot, and it seemed even hotter because of the fires against the sky, but the younger of the two girls Mr. Tanimoto and the priests had rescued complained to Father Kleinsorge that she was cold. He covered her with his jacket. She and her older sister had been in the salt water of the river for a couple of hours before being rescued. The younger one had huge, raw flash burns on her body; the salt water must have been excruciatingly painful to her. She began to shiver heavily, and again said it was cold. Father Kleinsorge borrowed a blanket from someone nearby and wrapped her up, but she shook more and more, and said again, "I am so cold." And then she suddenly stopped shivering and was dead."
"Mr. Tanimoto found about twenty men and women on the sandpit. He drove the boat onto the bank and urged them to get aboard. They did not move and he realized that they were too weak to lift themselves. He reached down and took a woman by the hands, but her skin slipped off in huge, glove-like pieces. He was so sickened by this that he had to set down for a moment. Then he got out into the water and, though a small man, lifted several of the men and women, who were naked, into his boat. Their backs and breasts were clammy, and he remembered uneasily what the great burns he had seen during the day had been like: sloughed off, and finally, in the evening, suppurated and smelly…He had to consciously repeating to himself, "These are human beings."
"Many citizens of Hiroshima…continued to feel a hatred for Americans which nothing could possibly erase. "I see," Dr. Sasaki once said, "that they are holding a trial for war criminals in Tokyo just now. I think they ought to try the men who decided to use the bomb and they should hang them all."
~~~~~~~~~~~~~~~~~~~~~~~~~~~~
Evangelizing the Japanese After The "Little Boy's" Visit.
"Gary, I do not understand what you are saying. How can you come to me and talk about your "loving" God after what you Christians did to innocent civilians at Hiroshima and Nagasaki. Your country is a Christian country. And you killed tens of thousands of men, women, and children in the name of your God who commands you to overcome your enemies with love. Is Hiroshima an example of Christian love?"
My mind was wrestling for quick answers to this Japanese student who was here in the United States going to college. I was sharing Christ with him, leading him down the "Roman Road" when he burst forth with words similar to those above. I wanted to come back with something like "America is Not a Christian country," or "Not everyone who calls themselves Christians are truly Christian," but I knew that would fall far short of answering this young man's reasonable cry.
I knew that our constitution, even our money boasted in the fact that America was founded on the belief of the God of the Bible. We had too many statements from the founding fathers of this country to deny they believed in the God of the Bible. I knew that 80 to 90 per cent of those polled in the United States probably considered themselves Christians during the time when the bomb was dropped. The President who gave the order to drop those bombs probably went to church regularly. The pilot was probably a good churchgoer too. He writes:
"A bright light filled the plane," wrote Lt. Col. Paul Tibbets, the pilot of the Enola Gay, the B-29 that dropped the first atomic bomb. "We turned back to look at Hiroshima. The city was hidden by that awful cloud...boiling up, mushrooming." For a moment, no one spoke. Then everyone was talking. "Look at that! Look at that! Look at that!" exclaimed the co-pilot, Robert Lewis, pounding on Tibbets's shoulder. Lewis said he could taste atomic fission; it tasted like lead. Then he turned away to write in his journal. "My God," he asked himself, "what have we done?" (Taken from the July 24, 1995 issue of Newsweek, special report, "Hiroshima: August 6, 1945")
The first bomb was bad enough, but to drop a second one only three days later revealed the hearts of those who were at the head of this disaster. In my heart, I could not justify America's actions regarding the atomic bomb. It was in total contradiction with Jesus' commandment to overcome evil with good, NOT with evil. Vengeance belongs to God alone, not Christians. We are to intercede on behalf of mankind, not destroy mankind with weapons of mass destruction. Surely the atomic bomb has been one of the greatest evils ever created by man. It has locked up the entire world in fear for several decades. And the leading "Christian" nation has been the only nation to use this "weapon of mass destruction," not only once, killing over 100,000 and injuring as many, but three days later dropping another one.
I gave up trying to bring this young Japanese onto the Roman Road. With head bowed, I walked away in shame, having no adequate answers for him…nor for myself.
Having been born in Germany right after the World War II, I (Gary), as a Christian, felt a double burden. I could not justify to Jews how Christian Catholics and Protestants could fill the ovens of Auschwitz with human beings while wearing belt buckles engraved with "In God We Trust." For thirty-seven years of my life, I was an atheist. I didn't take these things personally. But as a Christian, these events weighed heavily upon my heart. It was difficult for me to understand how so few Christians could see this great gap between what Christ taught and manifested in His life and what was manifesting from those who wore His name.
Well, we hope and pray the reader can see there is a great gap between the One Body of Christ bonded together in His love and what the world sees as Christianity. We have offered them excuses for this great gap. It's time to stop covering up our shortcomings with fig leaves. It saddens us to say, that in many ways, President Clinton perfectly reflects the heart of the American Church as well as the American people in general--lies, excuses, lusts of the flesh, spin, public opinion polls, betrayal, broken promises, hypocrisy, lack of shame, blame-shifting, etc. Let's get serious with God, put off our idolatry, and begin to really walk in Jesus Christ.
We have touched on some of the powers and some of the dross which must be dealt with and removed in order to bring forth the true image of God in our bodies as well as the rest of the world. We hope the readers lift us up in prayer as we seek to share more knowledge of the glory of the LORD…
"For the earth will be filled with the knowledge of the glory of the LORD, as the waters cover the sea." (Hab. 2:14)
In His Glorious love, Gary and Michelle Amirault
To be continued…