About Tentmaker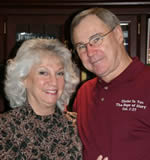 Tentmaker Ministries is Gary and Michelle Amirault and friends who have fallen in love with our Father, the Creator of the universe. We are concerned with growing up into the fullness of the stature of Christ and being about our Father's business.
Knowing Who the King of the Universe is and discovering He actually loves you, not just with words but in reality, is something that is impossible to keep bottled up. It must be shared. That is what Tentmaker is all about.
Through years of diligent study of various Bible translations, Greek and Hebrew language studies, reading the writings of the early church leaders and much prayer, we are convinced the Creator of the Universe and his Son, Jesus Christ, have gotten a lot of bad and false publicity, often at the hands of those of us who espouse His name. The Christian and Jewish Scriptures unanimously declare Him to be Omnipotent (all-powerful), Omniscient (all-knowing), Omnipresent, Just, One Whose mercy endures forever (Psalm 136) and Whose wrath will come to an end. (Isa. 57:16) More importantly, the Scriptures declare His very nature to be Love, but a love much higher than the Love man is capable of expressing apart from Him. He is unconditional Love, a Love which will lay down His life for His enemies. This love was demonstrated almost 2000 years ago through His Son, Jesus Christ. We feel much of the teachings perpetuated in His name do not reflect these attributes and His nature and therefore are false.
Even some Bible translations have been tainted with these degraded teachings. Some teach that God commands Christians to love their enemies while He endlessly tortures His own enemies. We find teachings such as this totally inconsistent and not harmonious to God's characteristics and nature. With a little diligence and willingness to let go of our man-made concepts of God, we believe one can harmonize all the Scriptures with all of God's attributes.
This site is dedicated to demonstrating that the God of Christianity is true to His attributes, true to His love and true to His Word. We hope to be a small voice declaring a very big God. We are helped by like-minded people who contribute through prayers, encouragement, project participation, and finances. We invite others to participate in sending out the message of the Everlasting Gospel, which is that Jesus Christ has reconciled the world back unto His and our Father.
We produce and provide hundreds of books, articles, audio and video material on many topics relating to spiritual matters. Many consider us experts on the topics of universal salvation and proving that Hell is not scriptural. Our sites are considered the leading sources for materials on these subjects. We provide speakers and teachers to introduce these messages to churches as well as to television and radio talk shows such as Pax TV's "Faith Under Fire."
We are amazed at how many people use the internet to find information about God. Millions of hungry truth-seekers keypunch into the search engines questions like: "Who is God?" "How can I know God?' "Does God really exist? "How can I know for certain there is a God?" "Why do I exist?" "Why shouldn't I commit suicide?" "What is life?" "Why live?" "Why does God allow evil?" "If God is good and all powerful, why does He allow so much suffering in this world?" "Which religion is right?" "Who really is Jesus Christ?" "Is the Bible trustworthy?" "Is the Bible without error?" "Does Hell exist?" "What is salvation?" "How can I know I am really saved?" These are all questions to which we feel we have some sound and credible answers — answers filled with hope and promise — not answers that leave people filled with fear, dread and darkness. Religions, all of them, bring people into bondage to men who end up becoming mediators between the followers and their concept of God. We have no desire to bring people into bondage of a religious system including the many thousands of denominations of Christianity. Our hope is that all who visit our internet site will come into a living personal relationship with their Maker, their Father through His Son, Jesus Christ, who sent the Holy Spirit to lead us into the Truth. Sooner or later all will come into this personal and eternal loving relationship with their Creator. Our hope is that it's sooner. Email us and ask how you can help. info@tentmaker.org
The Victorious Gospel of Jesus Christ, that is, that He is indeed the Savior of the world is a message few in the world have heard before. We've produced much material in English on this "Good News" to all mankind. But there is very little material in most of the other languages of the world. We, at Tentmaker, are doing as much as we can to get this message into other languages. The task seems insurmountable. But with the help of others who have embraced this glorious message, we can make a dent into the darkness. We hope those of you who have been touched by the Savior of all mankind will help us produce tracts, corrected Bible translations, articles, DVD's etc, radio and television broadcasts, etc which will reach languages like Japanese, Mandarin, Korean, Indian languages, Malaysian, Russian, Hebrew, Arabic, etc. To read about Christian or Biblical Universalism, please click here
You Can Help Spread the Victorious Gospel of Jesus Christ. I want to help.
"And every creature which is in heaven and on the earth and under the earth and as such as are in the seas, and all that are in them, I heard saying: 'Blessing and honor and glory and power be to Him who sits on the throne, and to the Lamb, forever and ever!'" (Revelation 5:13) One day we will all sing the praises of our Redeemer.